Gentle Parenting vs Attachment Parenting
Whether you're new to motherhood or not, chances are you have heard of either Attachment Parenting or Gentle Parenting. Maybe someone has mentioned one in a baby group you were in, someone talked about it on a blog, or maybe someone has even made a mocking comment about such parents. Either way, you want to know that the hype is about!
Attachment Parenting and Gentle Parenting are two different popular parenting "styles." They have a lot of similarities but you might start to wonder what their distinctions are. Attachment Parenting comes up a lot during the baby years, but Gentle Parenting is mentioned more during the childhood years.
Both parenting styles take the child's point of view into account.
Attachment Parenting and Gentle Parenting aren't actually very different, but there are some distinctions.  To break down the difference first I'm going to describe Attachment Parenting, then Gentle Parenting. We will then talk about where the differences truly lie and which one might work best for YOU.
(This post might contain affiliate links, which means if you happen to buy a product I love then I may get a commission – at no extra cost to you! For all the Ts and Cs go here.)
Attachment Parenting
The emphasis of Attachment Parenting is, well, attachment.
That the mother and child would develop a strong bond in the first few years of life using certain methods like co-sleeping and babywearing, and generally that's what we would associate with Attachment Parenting.
Attachment Parenting promotes the bond between parent and baby through immediate bonding at birth (think skin to skin for the first hour of life before any other medical procedures), breastfeeding, babywearing, co-sleeping (or some form of close sleeping), avoiding "training" the baby, responding to their needs quickly, etc.
Some actually prefer to use these "Seven B's" to define and structure their Attachment Parenting practice:
Birth bonding (parents physically connecting with baby immediately following birth such as skin to skin)
Breastfeeding
Babywearing
Bedding (sleeping) close to baby
Belief in the language of baby's cry
Beware of "baby trainers" ("experts" of some kind who encourage specific schedules or routines for feeding, sleeping, etc without enough personal knowledge of your baby or family)
Balance (between the adult and the child's needs)
(Reference: Today's Parent)
As you can see, a lot of this certainly has to do with the baby or toddler age.
I think attachment parenting is pretty great! As long as parents can understand that not all moms are able to follow Attachment Parenting closely, even if they desire to. For example, some moms have to go back to work, and that may make it difficult for them to implement all aspects of Attachment Parenting, and they should not be judged for that. Some Attachment Parents might have different definitions of what fits in as "officially" being Attachment Parenting, some might believe you MUST bed share, while others might argue the important aspect is a parent's responsiveness to a child when they need you at night.
I think there is a lot to be learned from Attachment Parenting, and in the end it's really about developing a secure attachment with your baby, and if that is your driving desire it will determine a lot of other decisions, such as your feelings about Cry It Out, how to respond to their needs, etc.
How do most parents start Attachment Parenting?
For a lot of parents they find they're already leaning towards Attachment Parenting by the way they are taking care of their baby.
I am a big fan of both Wellness Mama and Mama Natural, so I had been using their natural minded tips for a while. I bought my BumGenius cloth diapers and my Ergobaby Carriervery early in my pregnancy (and I'm glad, because I loved both products!) and as I got closer to birth and had done more research I had already made some decisions about my baby:
I was going to breastfeed
Her bassinet would be close to my bed, and I would respond immediately to her cries
I would do skin to skin after birth
Then after my baby was born and I grew into who I am as a mom I continued to lean into aspects of Attachment Parenting.
I realized I wouldn't do Cry It Out
I realized I was going to continue to respond to my baby's cries, even as she got older
I decided to breastfeed until age 2
I had no intention of sending my baby to her own room at 6 months
I started to realize my parenting style was a little bit different from a lot of other moms in my life. I started to hear about Attachment Parenting though and it made sense for me.
Would I label my parenting style at Attachment Parenting though? Probably not, because my baby got bigger and it didn't feel like it totally encompassed who I was as a mother, so that led me to Gentle Parenting.
Gentle Parenting
Gentle Parenting's main emphasis could be said to be discipline, although it may be more accurate to say that the main emphasis of Gentle Parenting is kindness and respect.
The discipline strategies used by gentle parents consider the feelings of the child and honours them. Gentle Parenting does not endorse spanking, time out, rewards, etc. because these practices are considered unkind, disrespectful, or overall will not benefit the child in the long run.
Unlike mainstream parenting, Gentle Parenting is intentionally looking towards the entire future of the child's life, not just trying to make them a more "tolerable" child who does not cry, complain, disobey, etc. Gentle Parenting is a long term approach to parenting.
Here is my definition of Gentle Parenting…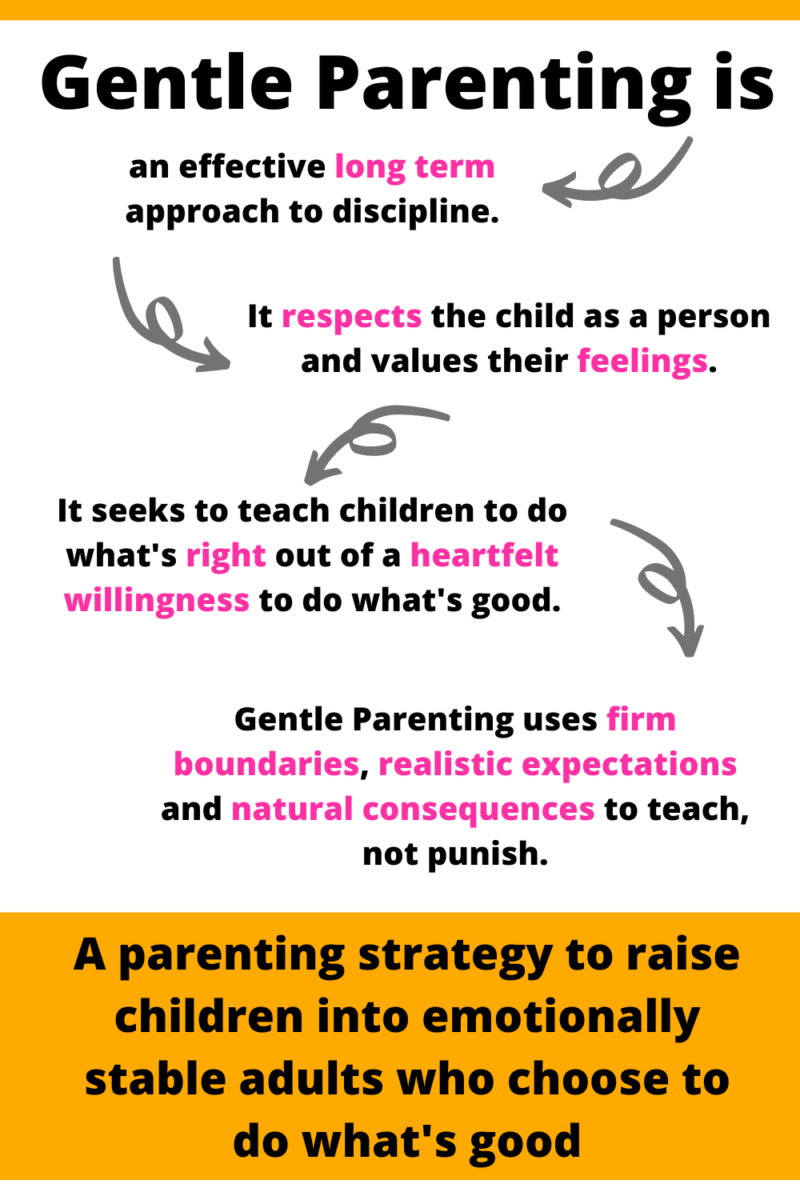 For the most part, Gentle Parenting endorses the same principles as Attachment Parenting, since many of their practices are considered gentle, but it goes far beyond the baby and toddler years.
I think that Gentle Parenting is a style even parents of adult children can use because a child will never be too old for kindness and respect.
Are there a set of rules you have to follow for Gentle Parenting?
I say NO, but it's possible some might disagree, but I've never come across anyone who has said so.
Being a gentle mom isn't always easy for me. It takes a lot of patience and the ability to stay calm, and anyone who says they're a gentle mom 100% of the time, year-round is probably lying!
Gentle Parenting doesn't have a set of rules to follow, but there are some discipline strategies many gentle parents might consider to be, "best practice," and we tend to see children with a similar perspective.
I consider these to be the main pillars of Gentle Parenting.
1. Respect
2. Validation of feelings
3. Positive Language
4. A Trusting Relationship
5. Natural Consequences
6. Age-Appropriate Skills
How do parents start using Gentle Parenting?
Many parents find themselves practicing Gentle Parenting because they were following some form of Attachment Parenting when their child was a baby.
Since Gentle Parenting is centred on kindness and respect often it's parents who desire to focus on those things as they raise their children are the ones who use Gentle Parenting for discipline.
I have a free course where I teach Gentle Parenting for parents who want to get a jump start! It's a video course but there is a written version of the lessons too if you prefer that. You can sign up below.
What's the difference between Attachment Parenting & Gentle Parenting?
As you can see, Attachment Parenting and Gentle Parenting are very similar. I would say though that Attachment Parenting is very specific to a certain age in your child's life, and might have some specific practices some parents would expect.
Gentle Parenting on the other hand is broader and leaves room for the parent to determine exactly what it would look like for them.
Should you use Attachment Parenting or Gentle Parenting?
I can't tell you which parenting style to choose, but personally, I don't think it's about choosing a parenting style, it's about finding who you are as a parent and if there's a label for it COOL.
What do you want to achieve as a mom? What will be your own guiding principles? How do you want to treat your children?
Asking yourself those questions can help you figure out what kind of parent you are. Maybe after reading this you already feel like, "Yes, I'm definitely already doing Attachment Parenting!" or maybe, "Yes, I'm definitely already doing Gentle Parenting!"
Parenting can be an overwhelming job though, especially if there are people who are trying to give you unsolicited advice! Even if you're trying to follow your gut it can still be hard to block out the noise is people are saying things like:
"You'll spoil your baby if you do ______"
"You're making him depend on you too much"
"Your baby will never learn to sleep if you always comfort him!"
That's one reason why I think it's important to identify your "people" in this parenting journey, so when you do look for advice you can look for it from people who share your parenting values, whether that's Attachment Parenting, Gentle Parenting or something else.
So follow your gut, figure out what kind of parent you want to be, and find your people!
If you're still not sure if Gentle Parenting is where you fit, then be sure to sign up to take my free course so you can find out if it's a good fit for you. See you there!
---
Read Next About Babies & Toddlers
How to Discipline a 12 Month Old Baby
How to Promote Language Development for Your Toddler
How to Discipline a Strong-Willed Toddler (6 Awesome Tips)