Fun things to do when bored for kids
When kids get bored the whole household can feel it. If you're kids get bored easily you know they'll often look for you to solve their boredom, or they'll start doing things you don't want them to be doing. Or maybe they'll just get sucked into hours of screen time.
We've all been there with our kids before, so here are some fun ideas of things you can do with your kids when they're bored. Some activities need more preparation and set up on your end, but other activities can be done in a moment's notice. Try out some of these things when your kids are bored and you might find some that they love doing again and again.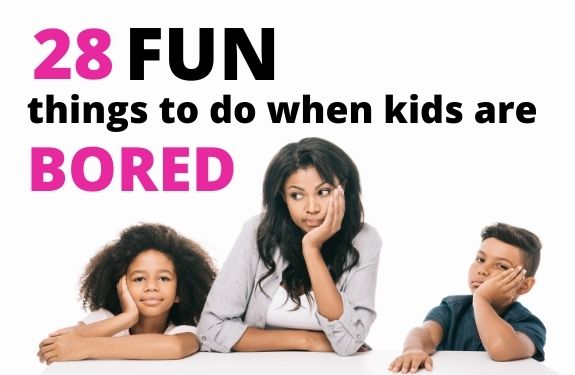 (This post might contain affiliate links, which means if you happen to buy a product I love then I may get a commission – at no extra cost to you! For all the Ts and Cs go here.)
How to actually get kids to do something when they're bored
I don't know about you, but a lot of times when a kid says, "I'm bored," and you make a suggestion of something to do they usually don't jump on it enthusiastically.
They might just need some down time to relax and actually not be stimulated, or maybe from you they just need a little bit of a push to be enthusiastic about your suggestion.
So instead of just saying, "If you're bored why don't you ____" I always try to use curiosity and helpfulness to my advantage.
I don't just give them the suggestion right away, I create some intrigue. I also might ask them if they'll "help" me with something, when really I just want them to do that thing so they won't feel bored anymore. Seems simple but these two strategies make a huge difference to get them to actually go along with my suggestion, so keep that in mind with your child.
Indoor Activities When Kids are Bored
*This indicates activities that can easily be done either indoors or outdoors
Go Noodle
This website and app is a lot of fun for kids when they're bored, and it gets them moving! Check out the online games here and use it with your kids.
New books
Books are a great way to cure boredom for kids! You can pull out some new books that you keep stashed away or check out your local library.
Alysia, an early childhood expert and founder of Well Beings with Alysia, recommends: "Pair children's books with a learning activity. Activities can be as easy as a short discussion or using stuffed animals as book characters. This helps kids engage with a book's message."
Crochet or Knit
Crocheting and knitting can be a fun new skill for you and your child to learn together, and they really help strengthen fine motor skills. There are lots of tutorials on YouTube to learn how and you won't need many new supplies to get started.
Paint Follow Along
Get out some paints next time your child is bored and fire up a painting follow along video so your kid can paint a certain scene. There are lots of art and painting tutorials online geared for kids, you just have to make sure they have the right supplies before they start. Here's a great video to paint a sunset with palm trees.
Cook/bake a new recipe
If you're adventurous in the kitchen, why not learn a new recipe with your kids? Sometimes it can be really fun to learn how to make something that you might normally buy at the store instead of making yourself, such as bagels, samosas, etc. This can be fun for you and your child.
Make a restaurant, school, bank, library, etc.
Follow your child's interests and encourage them to set up a restaurant, school, bank, library, etc in the home. Encourage them to think about what they might find there – for example at a restaurant there will be plates, menus, etc. They'll spend time setting it all up and being creative, and then they can also have some pretend play when they're done.
Try a new craft
Pinterest is loaded with craft ideas for kids of various ages, and some crafts require very few supplies so you might not even need anything special. You can pick out a few ideas that you know you have the supplies for and then ask them which one they would like to do.
Take a lego bath
Baths in general can be great when your kid feels bored, but adding something extra special like some LEGO or Duplo blocks can make it all the more fun for your bored kid.
*Build an obstacle course
Whether in the living room or the backyard, encourage your child to build an obstacle course. Tell them it needs to have a start and a finish and give them a few ideas of obstacles they might create if they're not sure.
Put on a play
If your kids are bored they can put on a play to present later in the day. They'll need to come up with a script, costumes, set, etc.
Do a puzzle
Pretty basic, but doing puzzles can be a lot of fun and also time-consuming when anyone feels bored.
Create your own board game
If your kids are bored of all their board games you can guide them to create their own. Ask them what they like most about other games – do they like to roll a dice or draw a card? Give them some supplies like a poster board so they can make their own board game.
Teach parent a new skill
So often adults are teaching new things to kids, but how about the kid can do the teaching this time? They can teach your something they already know how to do that you don't, or you can choose something that they need to learn how to do so they can teach you how to do. This will give them an opportunity to learn to do research (books or online) and to be self-taught before their chance to teach you. If a new skill isn't a book fit, choose another topic you want to learn more about that they have to research for you. Maybe you want to learn more about your favourite animal, or the details about the new library in town.
Mindful meditation
Mindful meditation is a great activity for kids. There are a lot of benefits to becoming more conscious through mindful meditation, such as becoming more aware of your feelings.
There are a lot of great books kids can use to help teach them mindful meditation, here are just a few of them.
*Play hide and seek
Either with siblings or with you, hide and seek is a fun way to pass the time when kids are bored. If they're tired of hide and seek there are other ways to spice it up, for example play "Sardines" where one person finds and everyone else searches, when you find them you hide together until the last person finds everyone. Or you or your child can hide stuffed animals around the house and you have to find them.
*Make a fort
Making a fort is a fun way to get creative in building new things. Use blankets, pillows, different pieces of furniture, etc. to build a fort. Once the fort is build what can they do inside the fort? Maybe play with some toys, read a book, etc. Encourage them to spend time in their fort once it's been built.
*Have a dance party
Turn on the music and start dancing together! Dancing is a great way to relax, burn energy, and bond as a family. Turn on your favourite music, or something your kids like, and start dancing together. Don't be afraid to be silly!
Krissy from The Hadicks also suggests adding glow in the dark necklaces and bracelets for a fun night time dance party.
Painters tape race track
Using painters tape you can create a race track around the house for their little cars to drive around.
Playdough
Playdough is a great sensory play option at any age. Here's a great recipe if you don't know how to make it already. You can use extra toys in it or small loose parts to make it more interesting.
Outdoor Spring & Summer:
Draw pictures of flowers you find
Make a book of flowers by going around and drawing pictures of the different flowers in your yard, park, on a walk, etc.
Wash the bikes
Fill up a bucket of soapy water and give your child the task of washing the bikes (or wagon, or playhouse, etc). Toddlers especially love this, just make sure they're wearing clothes where they can get wet.
Colour with chalk
Pull out the chalk and let your kids colour on the driveway or sidewalk. They could trace their bodies, write words, make animals, etc.
Camp in the backyard
Allow the kids to set up the tent if you have one, or get them to build a fort with picnic blankets or tarps. Any other camping equipment you can pull out definitely do so.
Colour match
Using paint chips from a hardware store, you can task your kids with finding colours in nature that match the colours on the paint chips. This is extra fun if you can do it while on a walk or at a park.
Outdoor Fall & Winter:
Jump in piles of leaves
Jumping in a pile of leaves can be a fun sensory experience for kids and help them to burn energy. Encourage them to make the pile of leaves themselves for jumping in.
Paint a pumpkin
Instead of carving a pumpkin, you and your kiddos can try painting one instead. If you do want to do some carving, make sure to include your kids in the process as it can be really fun for kids to pull out the seeds and get messy.
Make a snow fort
If you have snow in the winter time in your area, a snow fort can be lots of fun. Are there any tools that could help them to build such as gardening shovels? Maybe first they can watch some videos on how to safely make a quinzee and then try that.
Colour the snow
Again if you have snow, you could let them colour the snow by using watered down food colouring in spray bottles.
Need More Ideas for When Your Kids Are Bored?
If this list isn't enough, then I have one more strategy to help you think of things for your kids to do when they're bored.
I try to think of any type of play or activity that might fit into one of these play categories.
Art
Pretend play
Cognitive
Building – on a small scale or a large scale
Physical: fine motor
Physical: gross motor
Reading
Sensory play
Knowing your child best (you're the expert here) you might have an idea of what kind of play would interest them most right now and can think of (or Google) a specific activity within that area.
More Posts for Parents
–Strong Willed Toddler? 6 Effective Tips
–Tip for Feeding Dinner to Picky Kids
28 Unexpected Things to Do When Kids Are Bored At Home